The Amazon Indians are using GPS devices and Google Earth to help preserve the rain forest. This article shows the incredible things that can be done with free software and how it can effect the world. Also, the Indians are able to create documents and reference material based on the interviews they are doing for the place names that they are mapping. What started as a small project is turning into a multi-age effort to preserve their area and heritage.
http://news.mongabay.com/2006/1114-google_earth-act.html
"Deep in the most remote jungles of South America, Amazon Indians are using Google Earth, Global Positioning System (GPS) mapping, and other technologies to protect their fast-dwindling home. Tribes in Suriname, Brazil, and Colombia are combining their traditional knowledge of the rainforest with Western technology to conserve forests and maintain ties to their history and cultural traditions, which include profound knowledge of the forest ecosystem and medicinal plants. Helping them is the Amazon Conservation Team (ACT), a nonprofit organization working with indigenous people to conserve biodiversity, health, and culture in South American rainforests."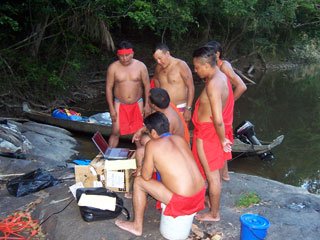 GPS data gathering on a mapping expedition in the Amazon. Image courtesy of ACT.